Pho­to : Egerer
Zum deutsch­spra­chi­gen Artikel
One can dis­co­ver even three high­lights during this hike in the area of Thern­berg. At the same time, one is strol­ling on his­to­ric trails – for Arch­du­ke Johann was the owner of the domi­ni­on Thern­berg from 1807 until 1828, he achie­ved a lot for this regi­on and gave land to the population.
To mana­ge this hike, we need some sen­se of ori­en­ta­ti­on, alt­hough litt­le blue dots are escor­t­ing us as a mar­ker during the who­le tour. Small pla­s­tic flags and oran­ge-colo­red cir­cles are show­ing us the way as well. Many thanks to tour gui­de Franz Schlögl – I would not have mas­te­red this rou­ting wit­hout him.
We start at the fire sta­ti­on in Thern­berg. Fol­low the hol­low way that starts direct­ly abo­ve it to the left. This hol­low way ends in a forest path – fol­low it for about 200 meters. Again, upward to the right, we pass a hunter's rai­sed stand, after a short, steep ridge, we cross a forest road. We keep right and walk on uphill, until we final­ly reach a big tur­ning round space. Many times, you have a nice view of the ruin and Thern­berg cast­le on the oppo­si­te hillside.
At the tur­ning round space, we now keep left – a forest track leads us about 500 meters uphill, until we arri­ve at a clea­ring and fork. To the left we see a striking rock – from here we will tramp on, after the "sum­mit ascent" of Gsol­berg. For now, though, we turn right direc­tion Gsol­berg (10 minu­tes). Arri­ved up the­re, we have alre­a­dy cover­ed most of the 500 meters dif­fe­rence in alti­tu­de. Blue dots and red cir­cles on the trees' bark show us the way to the sum­mit cross whe­re one has a pan­o­r­amic view of the Wech­sel regi­on – if the wea­ther is nice. To get here, one has to march 75 minutes.
Pan­ora­ma Route
After res­t­ing a while, we hike back on the same path to the clea­ring and the striking rock. As the nar­row path is over­grown, it gets a bit dif­fi­cult here. We move towards the rock, a steep track is set­ting off to the left. We stay abo­ve and move along the cliff – a beau­tiful distant view is our reward. Up the­re along the ridge again which ends in a nar­row forest path, befo­re one arri­ves at a wide forest road. Here we turn left, walk up to the mea­dow and turn sharp right onto the forest trail – we fol­low this one up to a field. Then, we hike straight ahead on the hig­hest spot to the road direc­tion Schlag, tra­ver­se the road, arri­ve at the field (road traf­fic mir­ror!) which we ascend along up to a birch gro­ve. We reach two litt­le ben­ches, the "Rai­mund Lech­ner – Platzl". Here we con­ti­nue, first along the field's line, then through the forest, until we hit a wide trac­tor lane. Wal­king on this lane, we enjoy sple­ndid views, until arri­ving at ano­ther forest.
Ascent Hohe Wacht
Spot­ting a forest path to the right, we fol­low it to approach our second sum­mit. The win­ding road is mean­de­ring up. To reach the sum­mit cross, the last part detours sharp right and rather unim­pres­si­ve, alre­a­dy on the pla­teau. After a short drin­king inter­mis­si­on, we hike back on the same path to the road whe­re we detou­red from the coun­try lane. Con­ti­nuing on the forest road, we keep slight­ly right, pur­sue an idyl­lic forest trail and fol­low it up to a "forest high­way". After moving on straight ahead for about 300 meters, we alre­a­dy turn left again onto a cozy forest track. This one leads us up to the alti­tu­de level of Thern­berg ruin, which is pri­va­te­ly owned and not acces­si­ble. To the right, forest tracks are mean­de­ring down again. From here, one sees a wider forest road, at which we should arri­ve. Fol­low it up to a bend and take the path to the right, lea­ding stee­p­ly down­wards. Soon we see Thern­berg from abo­ve, befo­re retur­ning to the fire station.
Altog­e­ther, it takes three and a half hours to cover the distance – an avera­ge con­di­ti­on assu­med. This hike, mana­geable in every sea­son, leads through pret­ty and clear beech gro­ves, mea­dows and fields off the bea­ten track.
Info
Dolo­res Marie Schärf unter­rich­tet Eng­lisch, Fran­zö­sisch, Spa­nisch sowie Ita­lie­nisch und ist als
Dol­met­sche­rin bzw. Über­set­ze­rin tätig.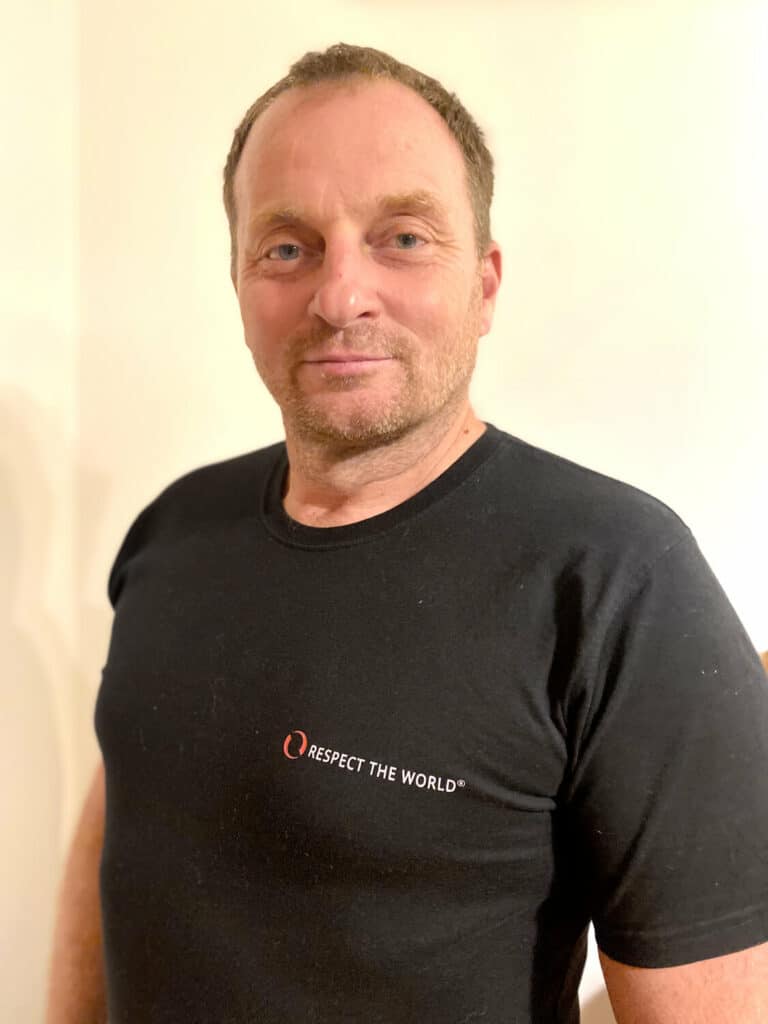 Tip from the moun­tain secu­ri­ty service
Dear lei­su­re time sports­men and sports­wo­men!
The warm sea­son has final­ly arri­ved and we are able to spend won­derful hours in the Buck­li­ge Welt regi­on. Apart from the neces­sa­ry emer­gen­cy equip­ment (ful­ly char­ged mobi­le pho­ne, first aid kit…), good plan­ning is essen­ti­al for lon­ger hiking tours. Orga­ni­ze prin­ted maps and plan your tour on the maps' basis. Note important road junc­tions and pro­mi­nent spots chro­no­lo­gi­cal­ly. This way, you always keep an over­view of whe­re you are. Just like that, par­ents can also teach their child­ren how to use "clas­si­cal" maps through play. I am loo­king for­ward to nice encoun­ters in our beau­tiful regi­on. Stay healthy.
Erwin Jung
Pho­to: Bergrettung
Pho­tos: Ege­rer Gra­phic: Scherz-Kogelbauer