Pho­to : Egerer
Zum deutschsprachi­gen Artikel
One can dis­cov­er even three high­lights dur­ing this hike in the area of Thern­berg. At the same time, one is strolling on his­toric trails – for Arch­duke Johann was the own­er of the domin­ion Thern­berg from 1807 until 1828, he achieved a lot for this region and gave land to the population.
To man­age this hike, we need some sense of ori­en­ta­tion, although lit­tle blue dots are escort­ing us as a mark­er dur­ing the whole tour. Small plas­tic flags and orange-col­ored cir­cles are show­ing us the way as well. Many thanks to tour guide Franz Schlögl – I would not have mas­tered this rout­ing with­out him.
We start at the fire sta­tion in Thern­berg. Fol­low the hol­low way that starts direct­ly above it to the left. This hol­low way ends in a for­est path – fol­low it for about 200 meters. Again, upward to the right, we pass a hunter's raised stand, after a short, steep ridge, we cross a for­est road. We keep right and walk on uphill, until we final­ly reach a big turn­ing round space. Many times, you have a nice view of the ruin and Thern­berg cas­tle on the oppo­site hillside.
At the turn­ing round space, we now keep left – a for­est track leads us about 500 meters uphill, until we arrive at a clear­ing and fork. To the left we see a strik­ing rock – from here we will tramp on, after the "sum­mit ascent" of Gsol­berg. For now, though, we turn right direc­tion Gsol­berg (10 min­utes). Arrived up there, we have already cov­ered most of the 500 meters dif­fer­ence in alti­tude. Blue dots and red cir­cles on the trees' bark show us the way to the sum­mit cross where one has a panoram­ic view of the Wech­sel region – if the weath­er is nice. To get here, one has to march 75 minutes.
Panora­ma Route
After rest­ing a while, we hike back on the same path to the clear­ing and the strik­ing rock. As the nar­row path is over­grown, it gets a bit dif­fi­cult here. We move towards the rock, a steep track is set­ting off to the left. We stay above and move along the cliff – a beau­ti­ful dis­tant view is our reward. Up there along the ridge again which ends in a nar­row for­est path, before one arrives at a wide for­est road. Here we turn left, walk up to the mead­ow and turn sharp right onto the for­est trail – we fol­low this one up to a field. Then, we hike straight ahead on the high­est spot to the road direc­tion Schlag, tra­verse the road, arrive at the field (road traf­fic mir­ror!) which we ascend along up to a birch grove. We reach two lit­tle bench­es, the "Raimund Lech­n­er – Plat­zl". Here we con­tin­ue, first along the field's line, then through the for­est, until we hit a wide trac­tor lane. Walk­ing on this lane, we enjoy splen­did views, until arriv­ing at anoth­er forest.
Ascent Hohe Wacht
Spot­ting a for­est path to the right, we fol­low it to approach our sec­ond sum­mit. The wind­ing road is mean­der­ing up. To reach the sum­mit cross, the last part detours sharp right and rather unim­pres­sive, already on the plateau. After a short drink­ing inter­mis­sion, we hike back on the same path to the road where we detoured from the coun­try lane. Con­tin­u­ing on the for­est road, we keep slight­ly right, pur­sue an idyl­lic for­est trail and fol­low it up to a "for­est high­way". After mov­ing on straight ahead for about 300 meters, we already turn left again onto a cozy for­est track. This one leads us up to the alti­tude lev­el of Thern­berg ruin, which is pri­vate­ly owned and not acces­si­ble. To the right, for­est tracks are mean­der­ing down again. From here, one sees a wider for­est road, at which we should arrive. Fol­low it up to a bend and take the path to the right, lead­ing steeply down­wards. Soon we see Thern­berg from above, before return­ing to the fire station.
Alto­geth­er, it takes three and a half hours to cov­er the dis­tance – an aver­age con­di­tion assumed. This hike, man­age­able in every sea­son, leads through pret­ty and clear beech groves, mead­ows and fields off the beat­en track.
Info
Dolores Marie Schärf unter­richtet Englisch, Franzö­sisch, Spanisch sowie Ital­ienisch und ist als
Dol­metscherin bzw. Über­set­zerin tätig.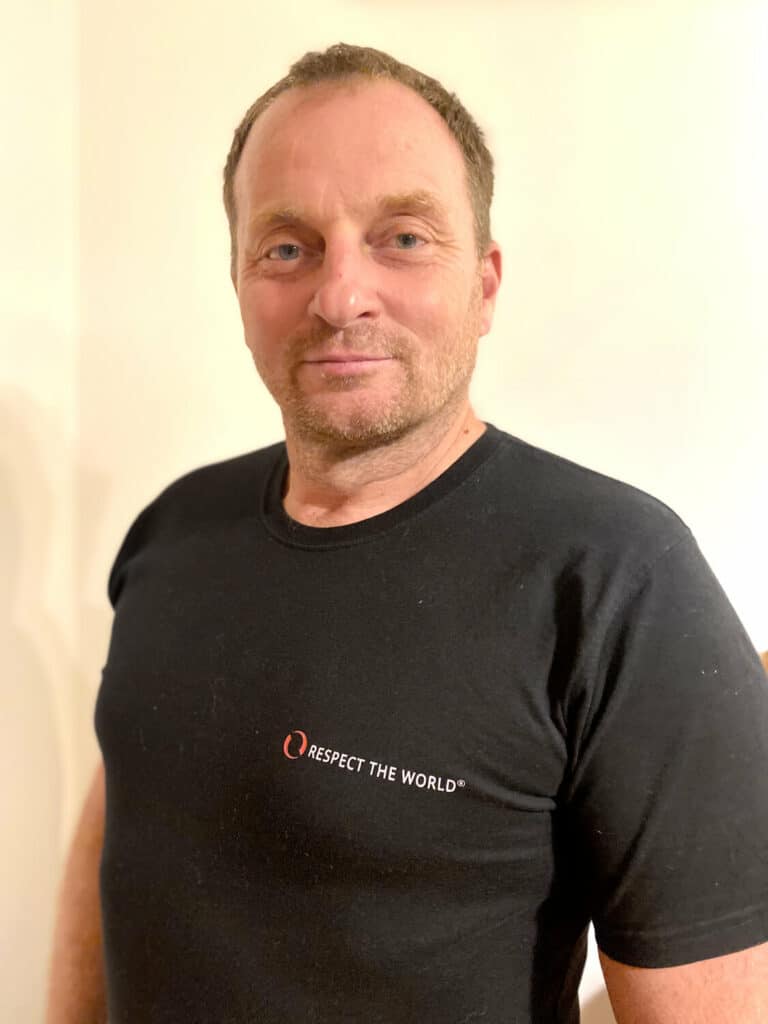 Tip from the moun­tain secu­ri­ty service
Dear leisure time sports­men and sports­women!
The warm sea­son has final­ly arrived and we are able to spend won­der­ful hours in the Buck­lige Welt region. Apart from the nec­es­sary emer­gency equip­ment (ful­ly charged mobile phone, first aid kit…), good plan­ning is essen­tial for longer hik­ing tours. Orga­nize print­ed maps and plan your tour on the maps' basis. Note impor­tant road junc­tions and promi­nent spots chrono­log­i­cal­ly. This way, you always keep an overview of where you are. Just like that, par­ents can also teach their chil­dren how to use "clas­si­cal" maps through play. I am look­ing for­ward to nice encoun­ters in our beau­ti­ful region. Stay healthy.
Erwin Jung
Pho­to: Bergrettung
Pho­tos: Egerer Graph­ic: Scherz-Kogelbauer