Pho­to: Egerer
Zur deutsch­spra­chi­gen Ver­si­on die­ses Artikels
Today's hike will make both, natu­re lovers and tho­se who are inte­res­ted in cul­tu­re, hap­py. On this rou­te, taking only one hour, you are able to espy even three fort­res­ses. We start in Raach, in front of the muni­ci­pal office.
No mat­ter if fami­lies, elder­ly per­sons or ambi­tio­ned hikers: ever­yo­ne gets their money's worth on an easi­ly exten­da­ble track. If you want to bring a baby pram: take a cross-coun­try model; and be unde­ter­red by a few rises. Child­ren will par­ti­cu­lar­ly like this rou­te; the ave­nue-like forest paths will put them into a kind of fairy tale mood.
Mea­dows and forests
We start at the muni­ci­pal office in Raach, the yel­low sign­post "War­ten­stein Rund­wan­der­weg R6" leads us north­bound. Howe­ver, not for a long time, we then turn left. One can also walk the rou­te start­ing from the other side – this is advi­sa­ble if you plan to extend it. Very soon, we immer­se our­sel­ves in mea­dows and forest paths, pan­o­r­amic views included. First Sonn­wend­stein, then cast­le ruin Klamm as well as the church of Schott­wien. Soon we find our­sel­ves in front of War­ten­stein fort­ress. This is the only place whe­re you have to be extra careful with child­ren. For some meters, the wal­king path leads us direct­ly along the road, but then we con­ti­nue on farm roads, light­ly uphill, always well indicated.
Just take care when you enter the forest – the forest road we are on turns right. Yet, we keep left on the midd­le path whe­re we soon spot the yel­low sign­posts again. On this part of the rou­te, we espy the towers of War­ten­stein fort­ress one more time, in the back­ground Rax and Schneeberg.
Eri­ka­fel­sen as an "extra benefit"
Even­tual­ly, we arri­ve at a par­ting of the ways. Here, we have seve­ral oppor­tu­ni­ties: eit­her one con­ti­nues on the War­ten­stein rou­te and rea­ches Raach within 20 minu­tes; or one takes a detour (wort­hwhile!) to the Eri­ka­fel­sen (Eri­ka rock). From the­re, one can enjoy a beau­tiful view of War­ten­stein fort­ress as well. For the detour, one has to sche­du­le half an hour more and finds ones­elf now on R5 Raach­berg cir­cu­lar rou­te. Adven­tur­ous per­sons might want to use the steep path behind the litt­le bench, lea­ding down from Eri­ka­fel­sen to an over­grown forest path, which they fol­low on right hand side, until they are stan­ding in front of the pla­te "Eri­ka­fel­sen" again. Here, one can deci­de ano­ther time. If I fol­low the Raach cir­cu­lar rou­te I have to sche­du­le ano­ther 2,5 hours. Alter­na­tively, I can walk back the same path up to the branch-off to War­ten­stein rou­te and finish via this tour.
Altog­e­ther is a gre­at tour with pan­o­r­amic views; at the end one even sees Kra­nich­berg fort­ress. One can stop for a bite to eat at Gast­haus Die­wald whe­re one can try the innkeeper's home-bre­wed beer out­side on the recent­ly estab­lished terrace.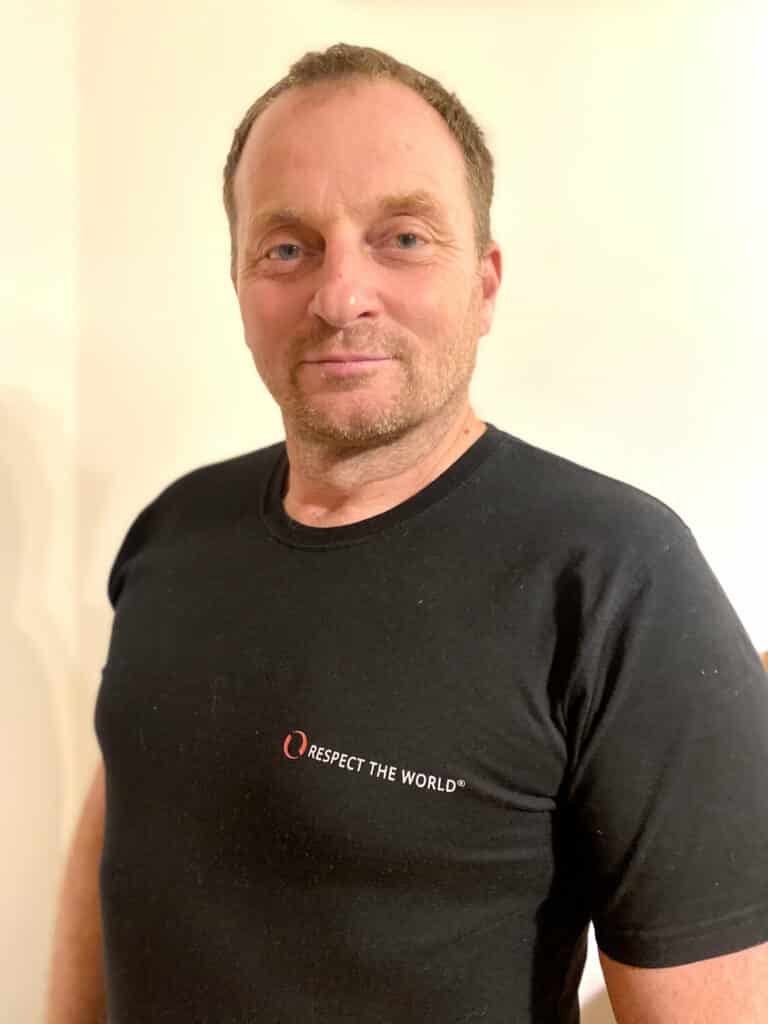 Tip from the Moun­tain Secu­ri­ty Service
Dear lei­su­re time sports­men and sportswomen,
When­ever I am on tour, I noti­ce that many peo­p­le loo­king for recrea­ti­on are real­ly well equip­ped. Working for the moun­tain res­cue ser­vice, I am very hap­py about that. Today, I would like to give you an under­stan­ding of an essen­ti­al part of a pro­per hiking equip­ment: the hiking boot. If you also walk off the pre­pared tracks, a hiking boot that covers the ankles is high­ly recom­men­da­ble. It offers much more sta­bi­li­ty and secu­ri­ty – and keeps the feet dry much lon­ger. Plea­se note: this boot must fit you per­fect­ly. The­r­e­fo­re, rely on good con­sul­ting, try on the boots and have some pati­ence. Important tip: func­tion is more important than form! Stay healthy.
Erwin Jung
Pho­to: Moun­tain Secu­ri­ty Service